Tanya's surprise
We were lucky enough to get the same house we had last year–it's right across the street from the beach, so it's a perfect location. Deanne and Bill, and Jeanne and Eddie also joined us. And a big surprise guest–Carmen, also came with them.
This was a total surprise to Tanya, as we kept it a secret until the day we arrived. And Tanya was truly shocked–mission accomplished.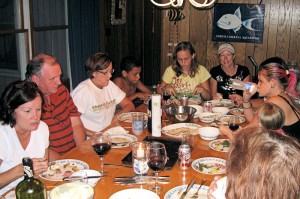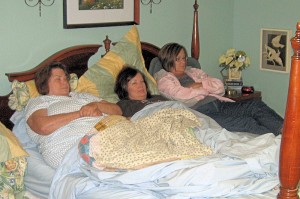 Crab hunting
Of course, we had to hunt sand crabs at night–it's the highlight of the day for the kids. You just go out with a flashlight and you'll see them running all over the place. We collected them in a pail to take back to the house for further "research."
Other nightly activities
Just about everybody got into arm wrestling–even Tanya and Brenden. And later on, we'd climb up to the crow's next and yak, dance, and shine the laser. I have a green laser that I use for astronomy demos. It's amazing how far it will go. There's a water tower about a half mile away, and we can actually see it on reflect off the surface (with a telescope).
Sweet 16
Megan turned 16 on Aug. 31, so we had an early birthday celebration one evening, with shrimp and steak. El Jefe and Future Cop did an outstanding job of grilling these goodies up, and we feasted and partied long into the night.
Fishing report
I took Mason down to the pier a couple of times–it's a great place to fish, but I can't say we caught any monsters. Except for the one shown here.
El Jefe and I got a kick out of this lady one morning, though. She appeared on the pier with her son, I'd say he was about 14. She gave him his lunch sack, and said "i'll see you about 4 this afternoon–gotta go now, I'm late." El Jefe and I looked at each other in amazement, but off she went.
Ocracoke
We took a drive to this scenic town, south of Nags Head one day. You have to take a ferry to  get across a body of water to get there, so that was kind of neat. I've never driven my vehicle onto a ferry before.
The town itself was small, and pretty touristy, but you can tell they made an effort to keep original buildings, to preserve the original feel of an old fishing village. It's a pretty good hike, about a 3 hour drive, so it's definitely and all day activity. We ate at a restaurant on the water, but I can't say it was great food. The view was nice, though.
Back to Richmond
Carmen had to go back on Wednesday, so we dropped her off at the airport in Norfolk, and headed back home.
We did eat at Chick's Oyster Bar in Virginia Beach though, before we left town. This is my favorite place to eat in Tidewater. It's right on the water and the fried oysters are delicious.
Just to spite me, I'm sure, the contingent of trailer trash (except for El Jefe), all ordered hamburgers. Oh, the embarrassment.
City of Henricus
Ond day, we visited a reconstructed village, circa 1611. The county has done an outstanding job, with several buildings rebuilt, and some good re-enactors, to tell us about the history of the original settlement.
It lasted about 70 years, and was almost completely wiped out before then by an Indian uprising. And we were also reminded that the first Thanksgiving took place in Richmond at Berkely Plantation, not Plymouth Rock, MA, as taught incorrectly in so many school textbooks.
[HTML2]