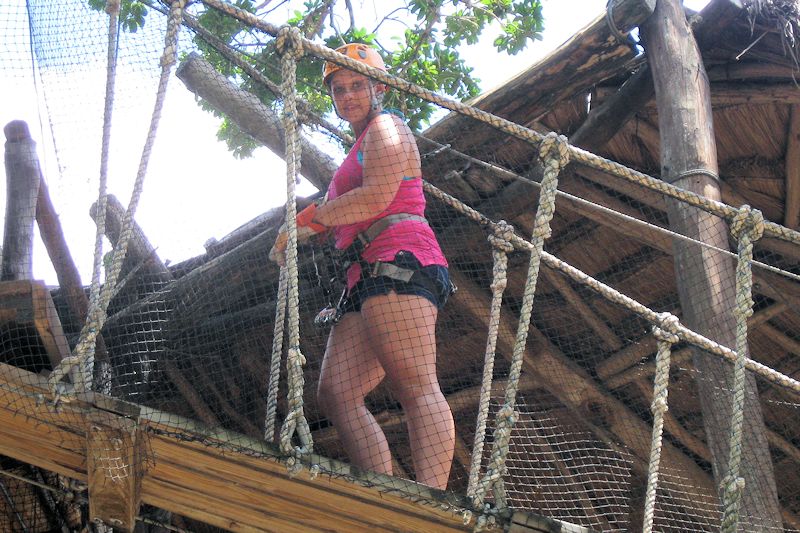 We took three of the grandkids this year–Megan, Mason, and Jordan. And the biggest kid of all, Aunt Lala. Probably the most fun day (for the grandkids) was the one they spent zip lining–once through the jungle, and another over the waters of a cenote.
Even grandma participated–although the trip to the first zip line on a bicycle did not end well. But, it was her birthday, and nothing was going to spoil the day. I thought for sure she was done after falling off and rolling about three times, but up she popped, and off we went, no problem.
I'm sure the water felt good and cold, seeing as how that's the way the water always is in a cenote. But especially after climbing to all those stations.
The best day for me, was the day we spent travelling to two Mayan pyramids–Tulum and Coba. Tulum is the only pyramid build next to water, and Coba is the highest pyramid on the Guatemala Peninsula (110 feet). The stairs are steeper than they might look–note the rope people are using.
The Coba complex is large–the kids took advantage of the unique transportation available.
And no trip to Cancun without a visit to our favorite village–Akumal. It's down the coast a couple of hours from Cancun, but it's an out of the way place that has an awesome restaurant right on the beach–La Buena Vida. In fact, the floor of the place is actually the beach.
The restaurant has a lookout tower, which Mason and Jordan couldn't resist
One of our favorite shopping place is Market 26. It's definitely out of the way–you have to get downtown, and then walk a ways. It has many different shops, and wonderful seafood, like at the outdoor restaurant El Tejas.
Right outside the Hooters (you know I had to go there, didn't you?), you can have your portrait done by this guy. Looks like he's dressed more for Paris than Cancun, but he did a good job on Mason's portrait.
Of course, we had to go four wheeling through the jungle, for Mason's sake. I don't know which was scarier–riding with Mason behind the wheel, or the bone jarring ride in the truck that took us to the site. Mason would stop and wait for the one ahead of us to get ahead about 100 yards, then he would floor it. My goodness, those ruts can really throw you up in the air.
At times, this trip seemed to be designed to give papa a heart attack. After the four wheeling adventure, I came face to face with a barracuda (in a very small boat), that Mason caught. The captain was hilarious–he kept us entertained in between catching fish.