We stayed at a La Quinta in Queens, which was only about 3 blocks from the subway. Then, after a 10 minute ride, we had about a quarter mile walk to the grounds.
You can see Terry here with the Arthur Ashe Stadium in the background.
Action pics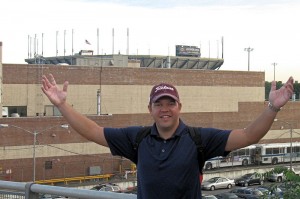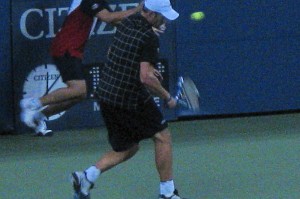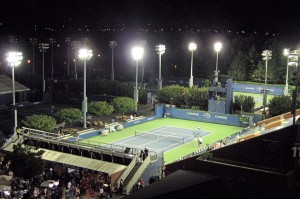 Terry and I were pretty much on the front row for all these matches. Sometimes we'd start off in the nosebleed section and work our way down as the match wound down. It was also cool to see these same players on TV the next week, at home.
First up is Djokovic, then Roddick, Tsonga, Simon, Monfils, in the order we saw them.
The lighted court near the bottom was taken from the 3rd story of Arthur Ashe Stadium. It's Court 11, where we saw Simon and Monfils the next day.
In the bushes
The very bottom picture is hilarious. See the bushes at the far end of Court 11? This is where these kids are sitting the next day, trying to see the court from close up.
And of course, we were so close to Manhattan, we had to hit Times Square and Ground Zero.
Since I was wearing my OU shirt or hat the entire time, I had several people stop me at the matches and tell me that they were from Oklahoma, or knew someone who lived there. One lady had flown in from Tulsa just that morning.
This is the topper though–we stopped in a Popeye's for lunch, and I asked this young lady if we could sit at her table. She said fine, then looked at my hat. She asked me if I was from OK, and said she had gone to school at OSU. She was there on a track scholarship, and was originally from Jamaica. She also said I probably shouldn't ask to sit at someone's table in NYC. They would consider it rude, and probably get up and leave. I was tempted to try it, just to see if I could get a rise, but decided I had better things to do. Like finding a bar and start drinking beer.
Boomer Sooner
In fact, we did just that. We passed a bar, called The Patriot, and I saw a TV inside. When I opened the door, the bartender saw my hat and screamed out BOOMER. Turns out she was from Texas, and even had it tattooed on her behind. Yes, she showed it to me.
We went to a play that night, taking advantage of the half price counter in Times Square. Unfortunately, we hit a loser–The Perfect Crime. The name of the theater should have been a tipoff–The Snapple Theater. It was supposed to be a comedy, but it was so convoluted, neither one of us had any idea of what was going on at the break, so we left.
Jedi training
On the subway back, Terry noticed that there were four 8-10 year olds sitting next to where he was standing. He noticed them, because they were all carrying light sabres. I couldn't hear what he was telling them, but he told me later he give them an impromptu session on Jedi manners and behavior. He had their strict attention for the next 20 minutes. I did notice from where I was sitting that they were staring at him. My son knows how to use the force. Who knew?
Arriba Arriba and Serena
We ate several times at a nice Mexican restaurant close to the subway station, called Arriba Arriba. On our last night there, we met the hostess there, Andrea. She overheard us talking about The Open, and told us that she was a tennis instructor, and often taught classes on the grounds there. Her mother is connected with the open, as one of the organizers.
She also told us a story about Serena Williams. She was watching an important match one day, and Serena, who was completely unknown at the time, was sitting directly behind Andrea. Serena told her that one day she was going to be down there, the same as the players who were competing that day. Andrea remembers how convinced Serena was when she made that statement that it was going to happen. And Andrea remembers wondering who in the world this girl was.
[HTML2]