Puerto Vallarta, Sep. 20, 2008–with the Piphers
Arrival
Bill and  Deanne, and Eddie and Jeanne met us in Puerto Vallarta on Sept. 20. We stayed at the PV Condo, Conchas Chinas. The customs line was horrendous–took about a half hour just to get through that. Deanne andJeanne zipped right through, and also arrived about an hour before we did.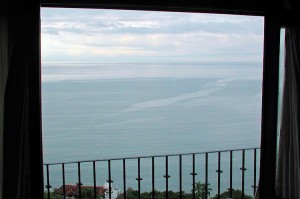 We caught a van to the condo for $45, just the 6 of us. We took a cab into town, $6 each cab, and went directly to La Distelleria, on the Malecon. KK and I had eaten here on our last trip, and it was neat to sit out on the balcony at night and watch the action below.


This trip, we were there in the afternoon, and just had appetizers. Chalapas Poblana, Taquita Cochinita, and Queso Fritas Verde. All very tasty. We walked around for a while, and had dinner at Pipi's. Good food, but it's more TexMex than Mexican. Then headed back to the condo, pool, and hot tub. Fantastic storm moved in that night–lots of flashes and thunder. We sat out on Bill and Deanne's patio and watched. Continued through the night–one flash was so bright, it lit up the entire bedroom and woke us up.
Day 2
Sunday, slept late, decided to do some shopping and breakfast in town. We walked down the hill to the highway and caught a bus into town, 6 pesos. Hit a couple of small jewelry stores near the bus stop on Padillo, then had lunch (too late for breakfast) at Freddy Tucan's. We really liked that place–good Mexican food, good prices. Took the bus to the Malecon, where the girls shopped some more, and Jailbail@yahoo.com and I had a snack to the Omelet House. It's a block off the Malecon, across the street from the downtown park. We had a 2nd floor balcony seat, and some excellent fish tacos.


We ran into a waiter named Caeser, who talked us into a timeshare visit at Hotel M, to get discount tickets to a show called Rhythms of the Night. The normal price is about $80, but he said he would have us picked up at the condo, and we would only have to pay $30 each. This sounded too good to be true, and that turned out to be right on the money. More on that later. We set up the tour for the following morning. Went to WalMart by bus, to stock up on breakfast supplies. This turned out to be a wasted trip, as we found out later there's a good place to buy food at Pharmacia Guadalajara, also near the bus stop on Padillo. Went back to the condo by cab, and had the driver stop at the Oxxo store near the bottom of the hill, as we needed sandwich meat and cerveza. Ate sandwiches and hung out at the pool that night.
Day 3
Caeser picked us up at 9 am in a couple of cabs, and off we went to the Hotel M. After screwing around with collecting data for about an hour, we were introduced to Grant, and finally got some breakfast. He was a nice guy, charismatic, but I suspect he was somewhat of a girlie man. This went on for about 3 hours, and finally concluded with the news that the show we'd promised was sold out. We thought we'd been royally screwed–we had ponied up $10 each to Caesar the day before.
But they eventually gave us $250 (US), plus our $60 refund, plus $4 for gas. I can't complain about the outcome, but it really was a waste of time.
So, we headed back to the condo, made sandwiches and hung out at the pool the rest of the day.
Day 4
After Bill fixed us all breakfast, we headed south on the bus for Mismaloya Beach. We met a couple from California, who had befriended a Mexican, also from CA, who knew a guy at the exit who ran the stable. He talked us into taking horses up the mountanside for $20 each. We couldn't pass that up, because it's a long walk, all uphill. It turned out to be over an hour each way, even by horse. The ride was nice though, and the horses were well behaved.
We started by crossing a stream, which was very disconcerting, but made it okay. The ride was scenic, as most of it was jungle, with many sheer drops on each side. The restaurant at the top, Chico's Paradise, was a very nice open air setting, and it was right next to a raging waterfall. Not a tall waterfall, but definitely raging. The atmosphere was very authentic oasis in the middle of the jungle. Since parts of Predator were filmed here, they also had a couple of full size models of the alien on site. Very well done.
After riding back down, we continued on down the mountain on foot, to the beach. Unfortunately, it started raining, and the local restaurants were starting to close. So, we took the bus back home. Ate sandwiches, and hung out at the pool again (after getting some rum and cokes at the Oxxo, of course).
Day 5
El Jefe fixed breakfast again, and we headed downtown via bus, to the downtown park (lot of local vendors there), and later struck out headed north to the local market, Guerrero Riza (or something like that). After walking around a while, we grew hungry, and walked further north to the Malecon, and ended up at the No Name Cafe. Pretty run of the mill menu, some Mexican food, but I was feeling adventurous, so I ordered the Mexican pork chops. Wow–they brought out this humongous chunk of pork, with two ribs still sticking out of it. Tender, and glazed with some spices that were just outstanding. $18 (US), and easily fed two people. You shouild definitely try it.
After wandering around the Malecon some more, and buying some cheap Mexican art next to the park, Bill and I met some Coast Guard crew, who were on leave. They were some very nice young men, probably in their 20's that told us what they had been doing lately, including just having busted a Mexican boat with 3.5 tons of cocaine. We bought them a beer, at No Name, and said good by there.
We got caught in a rain storm and got pretty soacked by the time we caught the bus back home. But did manage to find more rum and coke to sustain us back at the condo.
After relaxing a while, we decided to walk down the hill to try out the Lindo Mar Restaurant. An outstanding place. To give you some idea of the steepness of the mountain, after walking into the hotel, at street level, we took an elevator down 6 flights. Then you take a short walk across a deck on the beach to the restaurant. It's right on the water, and it's open air, so you get fantastic views of the ocean and sunset. The food is also outstanding. Several of us got the Camerones Debbie (large shrimp wrapped in bacon), Bill got the Mexican Combination plate (he said it was wonderful), and KK got the Red Snapper. And she definitely got the whole thing, head an all. It was huge, We played around with the skeleton afterwards–what a great night. Oh, and we hit happy hour, so the drinks flowed plentifully. We weren't up for a walk back up the hill, so we took taxis–$3 and well worth it.
Day 6
I had asked Dwan the night before if she knew someone who owned a van that we could rent for the day. She lined up Juan Canales, and he picked us up about 10 am. We headed to San Sebastian, a 17th century mining town that is still an authentic Mexican village. It's in the Sierra Madre Mountains, so it took about an hour and a half, but the route was very scenic. We passed some houses and ranches that had tour buses out front, where groups from cruise ships that came in that day were taking day trips. The road up the mountain was good, but there were several places where sliding dirt had covered part of the road, and at one point, part of the road was actually gone. You don't want to take this drive at night.
Our first stop was at the mining museum, which was also a bed and breakfast. The proprietor, Joe Thompson, was fluent in both English and Spanish, and was very knowledgeable of the history. He was very entertaining and gave a vivid description of how the place used to structured when the mine was in operation. Surprisingly, he said he gets plenty of business from around the country, and even from foreign countries. This place is in the middle of nowhere, but it's very scenic, quiet, and a river runs right by it, so I can see why people would want to come there. He lights a bonfire in a courtyard every night, so I can just picture how cozy it must be in the evenings.
After that, we headed up the road further, and stopped just before we crossed a bridge over this incredibly steep gorge, with a river running through it at the bottom. We got some good pictures there. Then we hit the town and stopped at a local coffee farmers, and bought some delicious coffee flavored with chocolate and cinnamon to bring back home.
The town itself, was very quaint and authentic. Definitely the epitome of a small Mexican village. Juan knew a lady there who baked something they call sweet bread. He bought some for his wife, and some for us. It was fantastic–if you ever go to this place, ask for this lady's house. It's two blocks behind the church.
We ate at a very fancy place called Los Arrayanes. You can't miss it–there's a statue of a miner right in front. It's definitely too high priced for the locals, so it kind of stuck out like a sore thumb, but I guess it's there for the tourists. Good Mexican and good prices, though.
After arriving back in town, we toured the Romantic Zone, just west of the Padillo bus stop, near the bay, and found a wonderful restaurant on the water called La Palapa. We never did try the food, but we sat outside on the beach, had drinks, and listened to a wonderful acoustic group play easy listening music, while we listened to the ocean waves in the background. A very relaxing way to wind down the day. We also noticed that there was a table set further out on the beach, with a little embedded walkway in the sand. And tiki torches set around it. On asking the waiter what that was all about, he said that's a private table you can order, for only $300 US. That's a nice concept–I had always wondered why restaurants didn't down here didn't do that. A little pricey, though. There are several more restaurants like this down the beach, and it would be worth exploring–oh well, maybe next trip.
Juan did a great job of showing us around, and I would definitely do it again. I've emailed him, but he hasn't responded. So, I don't know if he gave me a good address or not. We ended up taking another couple with us, so between 8 people, it only amounted to $40/person for the whole day. He would have also taken us to another beach if we had had time during the day.
Day 6
We had asked Juan last night to take us to the Marina this morning for a booze cruise to Yelapa. It's a pretty good ways, as we're south of town, and the marina is north, so he charged us $75 (US). But that was worth it, split 8 ways (Larry and Dee went with us).
While we were waiting for the boat to leave, another boat pulled up along side us, and some Okies yelled Boomer Sooner at us. They were from Anadarko. I happened to be sitting next to some Californians, who had just found out by asking another passenger who had one the USC game last night. They were #1,a nd had been beaten by Oregon State. The following week, OU became #1.
The trip to Yelapa took about an hour, and we stopped once to snorkel. I passed, but the rest of the group went in. Then we landed at the beach, and most people took a hike to a waterfall up the mountain side. I opted to head to the beach, ordered some shrimp quesadillas (3 for $8, and very good) and some beer, and then went swimming for a while. The rest of the group showed up about an hour later, and we ordered some food and ate on the beach.
The trip was cut short, as the captain was worried about a storm moving in. So, the girls didn't get to spend much time on the beach. On the way back, we got dumped on, big time, by a rainstorm, but the crew kept us very entertained with their antics.
Juan was waiting for us when we got back. We stopped at a fast food chicken place, that sold rotisserie chickens, called Pechuguon, on Insugentes, near the bus stop. It was very good, and had some unique spices that we liked. I got a half chicken for about $4 US, with a side order of tortillas. We had some of it for breakfast the next morning.
We walked down the hill and had our last dinner at Lindo Mar. More Camerones Debbie for me.